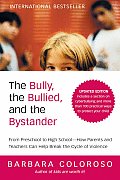 I went to the library to pick up a book on hold and came across this on the new shelf. And came home and read it straight through. REALLY excellent--probably the best book on the subject I've read. My kids have gone to all kinds of bully discussions at school over the years, and some of the solutions the schools come up with...well. Our favorite (not at this school, I forget which one it was) said, if you find yourself being bullied, what you need to do is fine a lot of friends to stick up for you. Um. Riiight. The whole reason the bully singled you out is because you DON'T have a bunch of friends. So how is that supposed to help?
This book isn't like that. This book is
helpful
.
One thing I like is how it treats the problem as a complex issue. What is bullying about? Power and contempt. Who is involved? The bully, the victim, and also the people watching (who might defend, join in the attack, or passively do nothing.) All of these players must overcome issues to solve a bullying problem. The book addresses each player in quite a bit of detail, trying to understand motivations for acting the way they do. And then it walks you through how to solve the issue and break the cycle of aggression.
Some things I particularly liked:
(In the section on understanding what bullying is) Teasing versus taunting: Teasing is fun, and done on an equal level of power, and ends when one of the participants is uncomfortable. Taunting is done on unequal power levels, and is meant to be degrading and show contempt.
Telling vs. tattling: If you do it just to get someone in trouble, it's tattling. Don't. If you do it to get someone OUT of trouble, then do it. If it's both, tell. I thought this was a super succinct way to explain it to a kid.
The idea of repentance--helping your child apologize, make restitution, and try to heal the breach. Understanding, of course, that things take time, and the older and more severe the action, the more complicated this is. (It sounds better in the book than in my summary!)
The idea of "creating opportunities to do good"--it teaches empathy and teaches kids to value other human beings. If you do, you aren't going to want to bully someone. Basically, the book promotes talking with your kid, modeling good behavior for your kid, but also putting the kid in the steering wheel to learn by experience how to deal with other people in a healthy way.
The section on dealing with the situation from the bullied side was good, but the one that stuck out most to me was the bystander section. Because we are ALL bystanders. And really, one person CAN make a difference. Some good friends of ours have a son the same age as our oldest. They had recently moved to a new town and he was the new kid in school. (So, every reason to keep his mouth shut and work on keeping those new friends.) The circus came to town, and since homeschooling is illegal in Germany, the circus kids were required to enroll in whatever school they were near. So yes, that means changing schools every few weeks. The other kids started picking on the circus kids. Our friends' son stood up and told them to leave the circus kids alone.
And they stopped.
He could have stayed quiet, but he didn't. And because he spoke up right from the start, the bullying never had a chance to take hold. I think of that story a lot.
My oldest (now 15) had significant bully issues in 3rd and 4th grade, and so I'm always sensitive to the possibility. The town we're currently in has by FAR the lowest incidence of bullying of any school we've attended, and I've pondered a lot on why that is. I'm pretty sure it's because of all the things the book names--the families in this town are teaching their kids by word, by example, and by providing practical experiences for their kids on how to feel good about themselves and care about others. I know that no place is perfect, but the difference here is striking. I wish it was like this everywhere!
And I guess I've just been thinking a lot about this, seeing how the book I most recently finished writing had a lot of these themes...especially about the bystander part. Which is why this quote stuck out to me in neon lights. It's a quote from Neil Kurshan, from his book Raising Your Child to Be a Mensch: "Children do not magically learn morality, kindness, and decency any more than they learn math, English, or science. They mature into decent and responsible people by emulating adults who are examples and models for them, especially courageous parents with principles and values who stand up for what they believe." And Coloroso continues: "It's important that our children see us stepping in, speaking up, and taking a stand against injustices, be those injustices in the family room, or the boardroom, the classroom, or the city streets. When we do more than give lip service to our beliefs, when we walk our talk, we model for our children ways to be that potent force in stopping the bullying." (p. 167)
Basically, between modeling and giving kids a chance to actually practice it, we teach courage and empathy and kindness. Which is why our friend's son didn't spend hours agonizing. He just stood up for those kids--because he'd already had years of positive examples, and opportunities to learn to care about others.
This is a longer review than I normally do, but the book was really, really good. I hope it reaches a lot of people and spurs a lot of conversations, because it will make the world a better place!